Congratulations and thank you to all our partners


for the Courage to Advance Crossing 2017!
Our young foundation was born on June 23, 2015. Its first two years of life were devoted to setting up solid foundations in order to carry out its marvelous mission. In 2017, our first big step took place: the Courage to Advance Crossing. Wheelchair crossing that lasted 24 days, over 1200 km, from Gaspé to Montreal and accomplished by Julien Racicot our Founder and Director! In order to allow you to relive this event with us, we invite you to watch this short video. The Crossing attracted great media attention. We count more than thirty TV, radio and newspaper interviews! Here is an example.
In addition to having met the mayors of the municipalities crossed, such as Mr. Labeaume (Quebec) and Mr. Coderre (Montreal), the MP of St-Bruno-de Montarville Caquiste, Ms. Nathalie Roy, very nicely underlined the Foundation and its Crossing to the National Assembly.
Crossing Quebec from Gaspé to Montreal, over more than 1,200 kilometres, requires a lot of equipment. It is worth reviewing them briefly: a robust and reliable wheelchair with good ergonomics and spare batteries, a wheelchair accessible RV as well as a campground in each of the 24 municipalities crossed, food , coffee and healthy snacks for 6 people for 24 days, bicycles for Julien's companions, clothing adapted to Mother Nature's various moods as well as a trailer to transport all this equipment. And this, not to mention a team of dedicated volunteers including Julien's nurse and his companion, his parents, the drivers of the escort vehicle who took turns throughout the trip, in addition to the person in charge of communications with municipal authorities. and the media.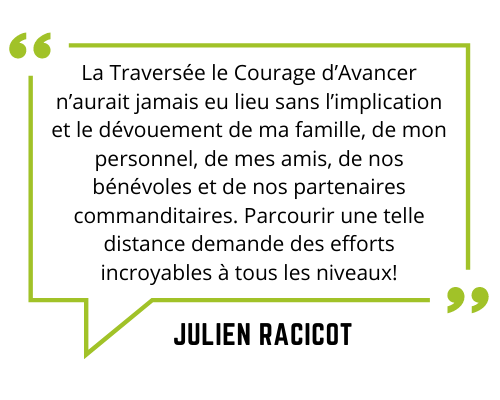 CONGRATULATIONS AND THANK YOU TO ALL OUR PARTNERS OF THE 2017 THE COURAGE TO ADVANCE CROSSING!